Front Street Brewery
frontstreetbrewery.co.uk
Welcome to our products page.
Below you will find details of the beers we produce here at Front Street, our regulars, seasonals and special beers like our range of Belgian Abbey beers. I'm sure you'll find somthing to try, but above all..
Respect Beer!
Trade or home imbiber?
All our beers are available in a variety of sizes, for the trade there is firkin or pin, and for home use there is:
500ml bottle
5 litre mini cask
10 litre demi pin
20 litre polypin
Come to The Chequers Inn and carry away a carry out. Just choose your favourite and carry it away!
Beer Quotes.
"No soldier can fight unless he is properly fed on beef and beer."
-John Churchill, First Duke of Marlborough
"You can't be a real country unless you have a beer and an airline - it helps if you have some kind of a football team, or some nuclear weapons, but at the very least you need a beer."
-Frank Zappa.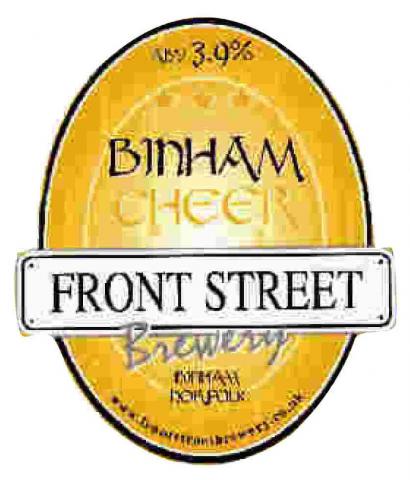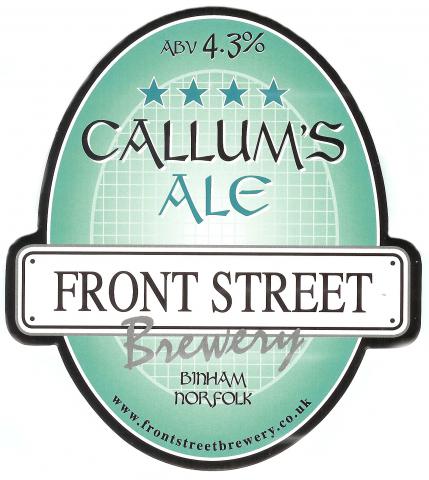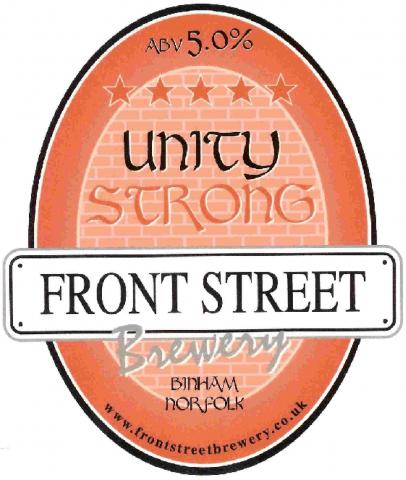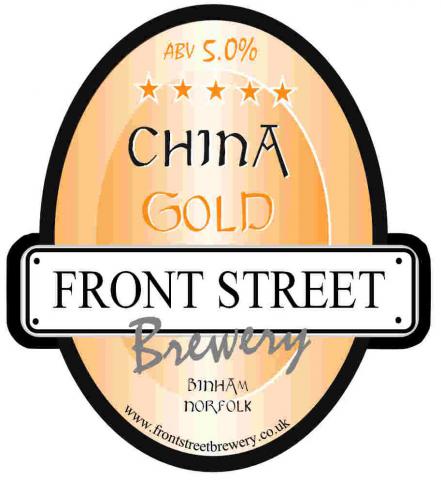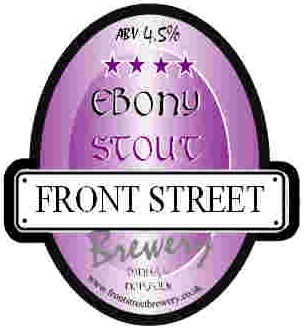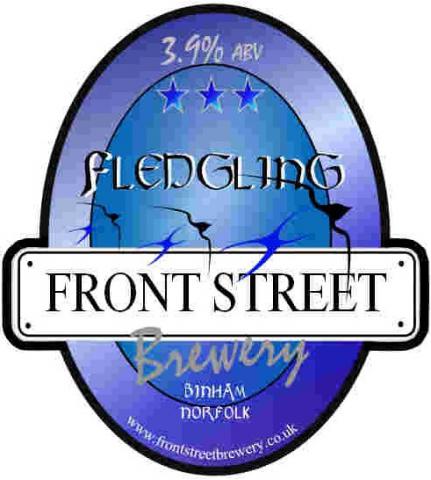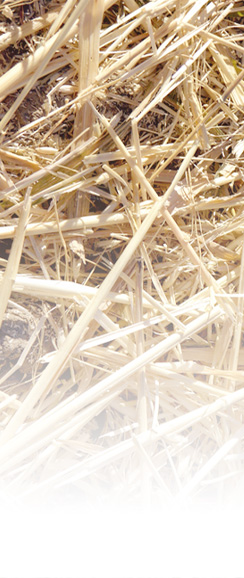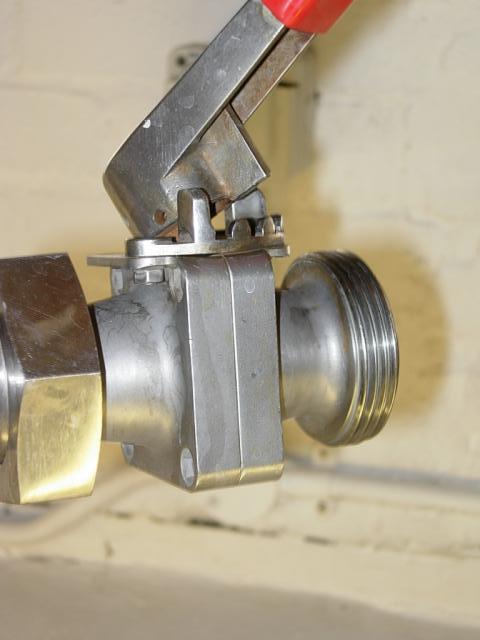 Binham Cheer 3.9% alc. vol.
The pale malt used in brewing Binham Cheer was grown within a few miles of the brewery added to an infusion of wheat malt and other
speciality malts gives this beer a wonderful deep straw Colour. The hops used include
Crystal and Saaz, which add a fresh clean flavour.
Callum's Ale 4.3% alc.vol.
Callum's Ale is a copper coloured ale and offers a dry, full bodied flavour with a good
hop finish. Callum's Ale is dedicated to my Godson
Callum Alexander to whom I made a promise.
Unity Strong 5.0% alc.vol.
Deep mahogany in colour, this ale offers a wonderfully complex sweet malty flavour
which dominates this strong ale. Yet it is well balanced with the addition of Crystal,Target and Saaz hops.
Ebony Stout 4.5% alc.vol.
Ebony Stout is a glorious chocolate stout. Made with four different malts and hopped with Target hops to give a good, bitter finish.
Fledgling 3.9% alc.vol.
Fledgling is a luscious ruby mild brewed in honour of our Swoopy's newly fledged swallow chicks.
Swoopy's Song 4.9% alc.vol.
Every year Swoopy the Swallow comes back to Front Street to nest. And every year he sits outside my bedroom window and wakes me with his song. This beer is in honour of Swoopy.May he visit for many a year! Golden coloured and flavoured with liqourice bark.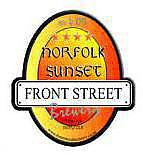 Norfolk Sunset 4.0% alc.vol.
Norfolk Sunset has a wonderful orange red hue, given to it by the special malts used. Hops used
include Target for bittering and Bobek for aroma.
China Gold 5.0% alc.vol.
This ale is a glorious gold in colour made with 100% pure East Anglian Maris Otter malt, whole leaf Crystal hops and a helping of oriental spice.
Blonde 6.2% alc.vol.
Blonde is the first of our à la mode range of Belgian style beers. Made with best East Anglian malt Blonde uses authentic Belgian ingredients including Belgian yeast and Candi sugar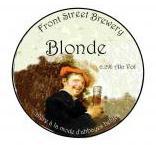 Old Sid 10.2% alc.vol.
Old Sid is a regular at The Chequers Inn, Binham. And in honour of him we brewed this Belgian style winter beer. Like him
it's a bit of a rascal weighing in as it does at a colossal 10.2% abv.